---
Applying the guidelines for early management of acute ischemic stroke using case studies
Case studies test attendees' knowledge of guidelines update.
---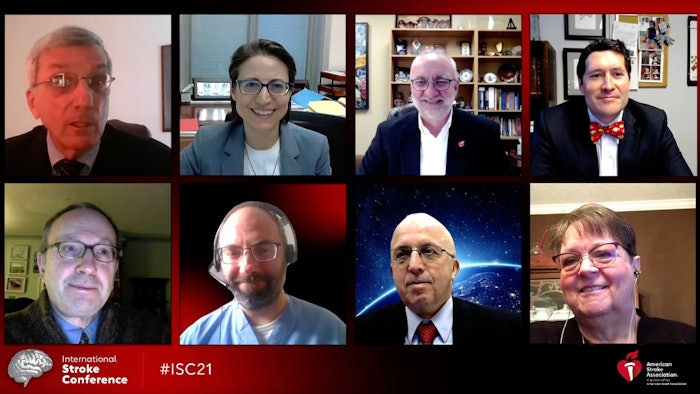 The latest update of the ASA/AHA Guidelines for the Early Management of Acute Ischemic Stroke is still being embraced by clinicians wanting to provide current evidence-based care.
William Powers, MD, chair of neurology at the University of North Carolina School of Medicine in Chapel Hill co-moderated "Case Vignettes From the 2019 Update of the Guidelines for the Early Management of Acute Ischemic Stroke" on Thursday, March 18. (The entire program is available on demand for registered ISC attendees until April 16.)
The most appropriate treatment for patients who present with a mild second stroke is not always clear. Thrombolysis is the obvious answer, and the wrong one, said Edward Jauch, MD, chief of system research at Mission Health at the University of North Carolina in Asheville. The use of IV alteplase may be harmful in patients who have had a prior ischemic stroke within the last three months. Thrombectomy is the preferred approach.
The evidence for thrombolysis in patients who present soon after the onset of a first stroke symptom is strong. Although the attendee poll found many respondents opting for anticoagulation or intensive insulin for an 80-year-old woman presenting just 30 minutes after a witnessed stroke onset with an initial NIH Stroke Scale (NIHSS) of 7.
"Trials all the way back to the International Stroke Trial in 1997 show no benefit to urgent anticoagulation, and the SHINE trial in 2019 was stopped early due to no difference in functional outcomes with intensive insulin versus standard care," said Andrew Southerland, MD, MSc FAHA, associate professor of neurology at the University of Virginia in Charlottesville.
He added that multiple trials published in 2020 and 2021 suggest it is not appropriate to forego thrombolysis in eligible patents, even if thrombectomy is being considered. 
Attendees were also unclear on the appropriate treatment for patients with minimal neurological deficits. Nearly two-thirds of attendees picked an inappropriate approach for a woman who presented with an NIHSS of 2.
Guidelines clearly state that thrombolysis should not be used in patients who can be treated within three hours of symptom onset who have an NIHSS of 5 or less," said David Tirschwell, MD, MSc, medical director of comprehensive stroke care at the University of Washington Medicine Stroke Center in Seattle.  
Most attendees, 65%, chose antihypertensive treatment for the patient, who was admitted with blood pressure of 200/115. Guidelines warn that acute antihypertensive treatment is not helpful in preventing death or dependency in patients whose blood pressure is less than 220/120. 
Another popular, and inappropriate, approach involves ticagrelor. Guidelines clearly note that ticagrelor is not recommended over aspirin for the treatment of patients with minor stroke. Only 30% of attendees chose the appropriate treatment, dual antiplatelet therapy with clopidogrel and aspirin for 21 days. 
There is also strong evidence in patients with mild stroke who present long after the onset of symptoms. Only 5% of attendees correctly voted to treat a man admitted 21 hours after last known well and an NIHSS of 7 with aspirin and admit to the stroke unit. 
"We have strong evidence that aspirin, when used within 48 hours of stroke onset, is a powerful intervention," said Alejandro Rabinstein, MD, fellow in critical care neurology at Mayo Clinic in Rochester, Minnesota. "The International Stroke Trial, and other trials, show that aspirin within the first 48 hours prevents 10 deaths or recurrent strokes per 1,000 patients during the first two to four weeks."