---
AHA boldly pursues 2024 impact goals to advance health of all
At Wednesday's Opening Main Event, AHA CEO Nancy Brown shared AHA initiatives and collaborations aimed to expand health care reach to people who are underserved.
---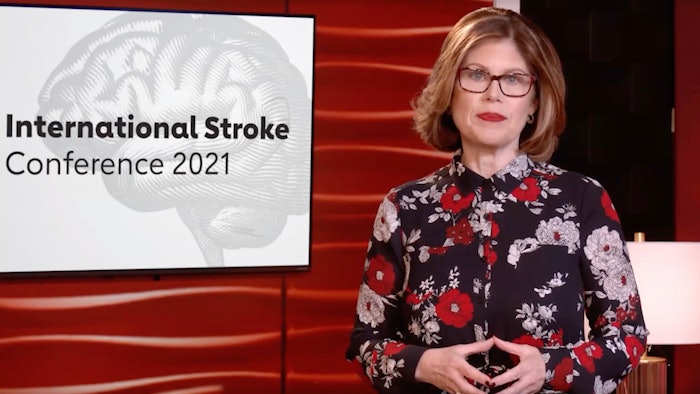 "We've taken several bold steps to emphasize our devotion to improving and advancing the health of all communities — urban, suburban and rural. And we've put ourselves on the clock," she said. "We aim to achieve measurable results by our 100th anniversary in 2024."
Brown said the AHA would invest more than $230 million to make this a reality. Efforts will include research programs and grants focused on health inequities and structural racism. Underrepresented racial and ethnic groups will find expanded opportunities within science and medicine.
"Other commitments include advocating against harmful products such as sugary beverages and tobacco, working with the federal government to expand hypertension management in under-resourced communities as well as sharpening our focus on disparities in our scientific journals, including Stroke," she said.
Brown outlined specific quality improvement programs. They include:
In September, the AHA launched Mission: Lifeline Stroke in Montana, with a $4.8 million gift from the Leona M. and Harry B. Helmsley Charitable Trust. Since 2010, the Helmsley Charitable Trust's Rural Healthcare Program has given more than $50 million to Mission: Lifeline programs across the Upper Midwest to help accelerate timely stroke care even across great distances.
In January, the AHA in association with the Bugher Foundation launched the AHA-Bugher Foundation Centers of Excellence in Hemorrhagic Stroke. They selected three research centers — Massachusetts General Hospital, Yale University and the University of California San Francisco — to help transform understanding of hemorrhagic stroke treatment and prevention. This network was made possible by an $11.1 million gift from the Bugher Foundation, boosting its support of research through the AHA to nearly $50 million.
Microsoft co-founder Bill Gates and the AHA are investing $2.8 million in the fifth center within the Health Technologies & Innovation Strategically Focused Research Network. Located at Boston University, this brain health and technology research center is leading research on the early detection of cognitive impairment, Alzheimer's disease and related dementias. An additional $500,000 will support all five centers in a collaborative project to enhance how research is shared to streamline and fast-track solutions to patient care and treatment.
The AHA will co-lead with the Department of Health and Human Services a $121 million nationwide hypertension control initiative. Approximately $32 million will go toward addressing hypertension in racial and ethnic populations that have higher rates of high blood pressure and are at increased risk for COVID-19 and severe chronic conditions such as heart disease and stroke.
 "This is exactly the kind of work that will help us reach our 2024 Impact Goal," Brown said.