---
Late-Breaking Science: Trials' results point to advancements in treatment approaches for patients with ischemic stroke
---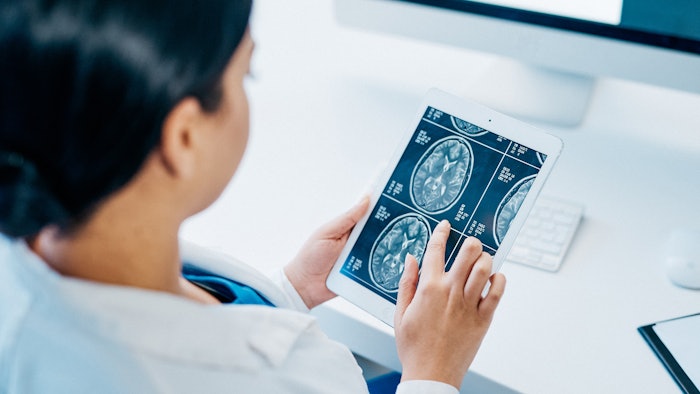 Investigators from five trials revealed findings impacting treatment of patients with ischemic stroke, how atrial fibrillation is detected and the promise of a DM199, an investigational treatment option during their Late-Breaking Science session on Thursday. They found:
Direct endovascular therapy wasn't superior to thrombolysis plus endovascular thrombectomy (EVT) in patients with ischemic stroke.
Direct mechanical thrombectomy was non-inferior over bridging IV thrombolysis/mechanical thrombectomy (IVT/MT) in specific patient populations.
Direct endovascular therapy may benefit patients who live within 60 minutes of a comprehensive stroke center.

Long-term insertable cardiac monitoring detects unsuspected atrial fibrillation.

The investigational form of human tissue kallikrein, DM199 holds promise for the treatment of ischemic stroke.
Direct endovascular therapy showed neither non-inferiority nor superiority in patients with acute ischemic stroke compared to standard combination therapy
Direct EVT without prior intravenous thrombolysis (IVT) did not statistically improve outcomes in patients with acute ischemic stroke due to proximal intracranial arterial occlusion compared to the combination of EVT and IVT, according to the trial Intravenous Thrombolysis Followed by Endovascular Thrombectomy Versus Direct Endovascular Thrombectomy: A Randomized Controlled Trial (MR CLEAN-NO IV).
The randomized controlled, open label, blinded endpoint trial enrolled 539 patients in 20 centers in the Netherlands, Belgium and France. Patients with acute ischemic stroke and an occlusion of the intracranial internal carotid artery, M1, or proximal M2, a baseline NIH Stroke Scale (NIHSS) of 2 or more, and presenting within 4.5 hours of symptom onset were randomized 1:1 to direct EVT (intervention arm) or IVT with alteplase 0.9 mg/kg followed by EVT (control arm). The primary endpoint was the modified Rankin Scale score (mRS) at 90 days. To avoid treatment delay, investigators obtained informed consent the day after patients were randomized.
There was no statistical difference between the two groups.
"IVT may increase the risk of intracerebral hemorrhage, but even intracerebral hemorrhages were similar between both groups," said Yvo Roos, MD, professor of acute neurology and vice head of the department of neurology at Amsterdam UMC in the Netherlands, the study's lead researcher.
Overall, the results underscore that when patients present with acute ischemic stroke due to a large vessel occlusion intravenous thrombolytics, direct thrombolytic drugs or endovascular treatments started as quickly as possible remains the goal.
"You have options," Roos said. "Time is brain. If you don't offer endovascular treatment at your center, you should start intravenous thrombolytic therapy and transfer the patient as quickly as possible to a center that can provide endovascular treatment."
Similarly, if your hospital provides both thrombolytic and endovascular treatments, you can choose the treatment based on the individual situation of the patient and logistics in your hospital at the moment, he said.
Study shows non-inferiority of direct MT versus bridging IVT/MT and a personalized approach to treatment for large vessel occlusion stroke
For patients with large vessel occlusion receiving treatment at a thrombectomy-capable center (TCC), primary mechanical thrombectomy (MT) appears to be non-inferior to bridging intravenous thrombolysis (IVT)/MT, according to the Systemic Thrombolysis Randomization in Endovascular Stroke Therapy (SHRINE) collaboration.
The trial analyzed pooled data from two clinical trials: Effect of Mechanical Thrombectomy Without Versus With Intravenous Thrombolysis on Functional Outcome Among Patients With Acute Ischemic Stroke (SKIP) in Japan, and Effect of Endovascular Treatment Alone Versus Intravenous Alteplase Plus Endovascular Treatment on Functional Independence in Patients With Acute Ischemic Stroke (DEVT) in China between January 2017 and May 2020. SHRINE evaluated the primary outcome of functional independence and the secondary endpoint of reduced disability on the modified Rankin Scale score (mRS) at 90 days in the pooled patient cohort and accessed heterogeneity of this outcome across pre-specified subgroups. Patient-level data from 438 patients, with 217 assigned to primary mechanical thrombectomy (MT) and 221 assigned to combined therapy, were analyzed.
Generalized estimating equation models were used to compute common odds ratios (OR) for the primary and secondary outcomes in the overall population after adjustment for age, sex, baseline NIH Stroke Scale (NIHSS), baseline Alberta Stroke Program Early CT Score (ASPECTS), site of occlusion, glucose and stroke onset to puncture time.
"As the lower boundary for the adjusted OR for 90-day Functional Independence (90-day mRS 0-2: adjusted OR 1.27, 95% CI, 0.84-1.92) crossed the pre-specified non-inferiority margin of 0.85, we were unable to confirm that primary MT is non-inferior to bridging IVT/MT," said Raul G. Nogueira, MD, the study's principal investigator. "However, there was a trend toward non-inferiority (p=0.06) and most, if not all point estimates directionally favored primary MT."
"The critical question should not be: 'Should we or should we not be administering IVT to all eligible patients presenting to a thrombectomy-capable center before MT?' but rather 'Who are the specific patients who should and should not receive IVT in a thrombectomy-capable center before MT?'" Nogueira said.
According to SHRINE analysis, subgroups to likely benefit from primary MT include patients with symptoms onset to puncture >180 minutes, intracranial ICA occlusion, or atrial fibrillation. Although not yet significant in their analysis, the investigators are hopeful that other subgroups including those with NIHSS >15, inactive caspase activated DNase (ICAD) or hyperglycemia (≥140 mg/dL) might also demonstrate a differential treatment effect on future larger pooled analysis. SHRINE analysis only applies to TCCs with Fast MT workflow, including the immediate availability of a neurovascular team.
At primary stroke centers, thrombectomy-capable centers with suboptimal MT workflow and situations when the neuroendovascular team is not immediately available, we must continue to provide IVT to all eligible patients," Nogueira said.
Distance to endovascular center can indicate whether patients with acute stroke benefit from direct transfer
Patients with acute stroke symptoms who are located 60 minutes or less from a comprehensive stroke center (CSC) may benefit from direct transfer, according to secondary analysis of the RACECAT Trial: Benefit of Direct Transfer to an Endovascular Stroke Center According to the Presence of Large Vessel Occlusion and the Transfer Time to the Endovascular Center.
The RACECAT trial, a prospective multicenter clinical trial randomized 1,401 acute stroke patients with suspected large vessel occlusion, compared transfer to the nearest local stroke center (LSC) versus direct transfer to a CSC in Catalonia, Spain. RACECAT determined that patient outcomes were similar, whether patients were transferred first to an LSC versus direct transfer to a CSC.
"But when we analyzed the benefit of direct transfer in this secondary analysis, we found that distance to the endovascular center is important when deciding the destination, so patients located within 60 minutes or less could benefit from a direct transfer, while first having care at the local center is the best option for patients farther away," said Natalia Pérez de la Ossa, PhD, stroke neurologist at Hospital Germans Trias i Pujol in Barcelona, and the study's principal investigator.
The study's findings may help to establish transfer protocol best practices.
"In remote areas, where patients are located more than 60 minutes from a CSC, stopping at a local stroke center is probably more beneficial," Pérez de la Ossa said. If an LSC is located in a remote area, Pérez de la Ossa noted that concentrating your resources on streamlining the coordination and transfer of information between hospitals and the  emergency medicine service is preferable to focusing on improving the direct transfer of patients to a CSC.
Long-term insertable cardiac monitoring plays an important role in stroke prevention
The rate of atrial fibrillation (AF) was seven-fold higher in patients admitted to the hospital for ischemic stroke due to large artery atherosclerosis or small vessel occlusion monitored with an insertable cardiac monitor (ICM), according to the trial Stroke AF: Atrial Fibrillation in Non-Cardioembolic Stroke of Presumed Known Origin.
The prospective, randomized, controlled, multicenter trial compared AF incidence rates by randomizing 492 patients with ischemic stroke attributed to large artery atherosclerosis  or small vessel occlusion to ICM versus standard of care (SOC). AF detection at 12 months was higher in the ICM versus the standard of care arm, 12.1% versus 1.8% (HR =7.41, p<0.001).
"There was no meaningful difference in the rate of AF between patients with large artery atherosclerosis versus those with small vessel occlusion, even though the mechanism of stroke in these patients is believed to be different," said Lee H. Schwamm, MD, FAHA, FAAN, C. Miller Fisher chair in vascular neurology and director of the Center for TeleHealth at Mass General Hospital in Boston.
Compared to the SOC arm, long-term oral anticoagulation to prevent recurrent stroke was prescribed in a greater proportion of subjects with AF in the ICM arm (7.4% versus 1.2%, p<0.001) and there were numerically fewer recurrent strokes.
"Approximately one in eight subjects with ischemic stroke in the ICM arm had AF detected, and the majority of subjects with AF had at least one episode per hour," Schwamm said.
He also noted that ICMs play a key role in detecting these abnormal heart rhythms, which represent an important opportunity for future stroke prevention. Further studies are needed to determine if early detection of these abnormal heart rhythms and treatment with anticoagulants can safely reduce the risk of future stroke.
DM199 shows potential as a safe treatment option for ischemic stroke
DM199, a form of human tissue kallikrein, demonstrated a positive safety profile in patients with ischemic stroke, according to the trial Safety and Tolerability of Recombinant Human Tissue Kallikrein (DM199) in Acute Ischemic Stroke: The ReMEDy Randomized Clinical Trial.
In the double-blind, placebo-controlled phase 2 study, 92 patients were randomized within 24 hours after ischemic stroke to receive DM199, a form of human tissue kallikrein (KLK1) produced using genetic technology, or placebo. KLK1 is a naturally occurring protein that regulates blood vessel control; it is approved for use in China to treat ischemic stroke. Patients with moderate to severe stroke were eligible for DM199 if they could receive thrombolysis or mechanical clot removal, and the stroke remained severe one hour or more post-treatment. Patients received an initial intravenous DM199 dose, then further subcutaneous injections every three days for the first three weeks after stroke at 12 Australian sites from January 2018 to October 2019.
The trial met its primary safety and tolerability endpoints, with DM199 treatment appearing safe in patients with ischemic stroke. A phase 2/3 study is being initiated with DM199 focused on patients with small vessel occlusion stroke who are not receiving mechanical clot removal or thrombolytic treatment, a group that currently has no therapeutic alternative.
"There is a need for new treatments to improve outcomes for stroke patients beyond those achieved with clot-dissolving thrombolysis and mechanical clot removal," said Bruce Campbell, MD, professorial fellow in the department of neurology at Royal Melbourne Hospital in Parkville Victoria, Australia, the study's principal investigator. "DM199 demonstrated a good safety profile and, based on this phase 2 study, warrants further clinical study."