---
Opening Main Event: AHA/ASA to take 'big swing' with health equity initiatives
AHA CEO Nancy Brown outlines four key initiatives to further reduce death and disability from stroke in the coming years.
---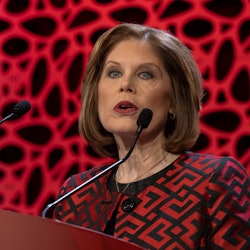 The Opening Main Event on Wednesday celebrated the American Stroke Association's 25th anniversary and promised a dramatic expansion of initiatives to further reduce death and disability from stroke in the coming years.
"We are committed to making the next 25 years even more impactful," said AHA CEO Nancy Brown, as she listed four key initiatives.
The HCA Healthcare and HCA Healthcare Foundation's $15 million commitment to Getting to the Heart of Stroke initiative to inspire more collaboration between neurology and cardiology to improve patient care. 
The Leona M. and Harry B. Helmsley Charitable Trust recently contributed $12.1 million to rural health solutions. The investment helps fuel HealthCorps, the AHA's new public health workforce program in rural communities and to increase access to care via telehealth. 
AHA also has $20 million in Health Equity Research Network grants available for use. 
Working with the Rockefeller Foundation and Kroger Health, the AHA is launching a $250 million program to create definitive evidence that Food as Medicine improves health and is cost effective when integrated into the health care system. 
"We aim to prove that food and nutrition programs help prevent and treat chronic disease and should be a reimbursable benefit from both public and private health insurers," Brown said. "This is the type of big swing we like to take."
It's not the only big swing the association is taking. The AHA committed to fund $100 million on new solutions to health inequities and structural racism and to expanding opportunities for those underrepresented in research. 
"We have already exceeded this commitment," said AHA President Michelle Albert, MD, MPH, FAHA. "And the AHA has added specific requirements for its large research programs to ensure that teams are diverse."
Among other requirements, at least a quarter of key research team personnel and at least half of named trainees must be from groups underrepresented in science. These equity elements affect application overall evaluation score — and the chance of funding.  
Dr. Albert is the Walter A. Haas-Lucie Stern Endowed Chair and Cardiology and Professor in Medicine and founding director of the Center for the Study of Adversity and Cardiovascular Disease at the University of California in San Francisco. Her research focuses on the health effects of financial distress. 
"We have a marked wealth gap by race and ethnicity," she said. "Too often, patients tell me, 'Don't let me die because I don't have enough money'."
"This powerful shift is possible. Policymakers and medical professionals can lead systemic change. You can be involved by advocating through the AHA's You're the Cure network and your own research," she said. "And, however, you go forward, please remember this simple fact: We need not let people die from the effects of economic adversity."
Brown also gave a touching tribute to her friend and colleague Ralph Sacco who died in January. See Remembering Ralph Sacco.