---
Q&A with Cheryl Bushnell
The Edgar J. Kenton III Lecturer shares her perspectives on social determinants of health and some big ideas.
---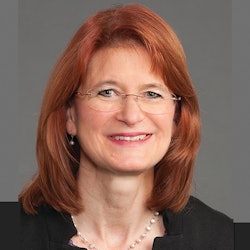 On Tuesday, Cheryl Bushnell, MD, MHS, FAHA, delivered the Edgar J. Kenton III Lecture.
Dr. Bushnell is professor of neurology and stroke division chief in the Department of Neurology at Wake Forest University Health Sciences in Winston-Salem, North Carolina. She shares insights into her research, its connection to social determinants of health and Dr. Kenton's legacy. ISC News recently sat down with Dr. Bushnell to elaborate on each.
ISC News: What is the primary message in your presentation?
Dr. Bushnell: My primary focus is to discuss the negative trends of hypertension, the most modifiable risk factor for stroke, and how this impacts people of color, especially African Americans and women. My studies have addressed this issue thus far, how we need adequate data to understand the issue of access to optimal post-acute and secondary prevention care and describe how patient-centered strategies that are vetted and approved by stakeholders are the best approach to positively impact hypertension control and thus reduce recurrent stroke and major adverse cardiovascular events.
ISC News: How does your research correlate to this topic? Can you provide details of your research?
Dr. Bushnell: I have been involved with research in models of transitional care, and we have adapted this model to secondary prevention focused on blood pressure management. We have a comparative effectiveness trial funded by the Patient Centered Outcomes Research Institute, called TEAMS-BP (Telehealth-Enhanced Assessment and Management after Stroke-Blood Pressure), that is comparing two different evidence-based strategies of BP management to determine which is more effective at lowering systolic BP to below the target of 130 mm Hg. https://www.pcori.org/research-results/2021/comparing-two-ways-control-blood-pressure-after-stroke 
We have three main populations of stroke survivors in our study: African Americans, those over age 75 and those with physical and/or cognitive disabilities to determine which is more effective for BP control and patient activation. All of these groups are at high risk for poor outcomes, especially African Americans, who have a higher risk for stroke than white people with the same increase in BP. 
ISC News: Why is your topic important at this time? Is there a new update, guideline or discovery that makes this timely?
Dr. Bushnell: Trends in hypertension control are concerning, especially with Black and Hispanic people bearing the burden of worse control and already being at higher risk for stroke. The update was published in Circulation in 2022 and was based on a workshop led by the National Heart, Lung, and Blood Institute and CDC. They studied the trends of BP, and there has been a significant drop in the proportion of individuals in the U.S. whose BP is controlled. They also emphasize several strategies that could be deployed to address these trends. [Commodore-Mensah, et al.  Am J Hypertension 2022;35:232-242]
ISC News: What specifically are you referring to about the "past" that we must learn from today?
Dr. Bushnell: We know that structural racism and social determinants of health (SDOH) negatively impact our ability to manage primary and secondary prevention as well as stroke recovery/rehabilitation. So, we need to have adequate data to understand the communities where access to care is suboptimal and use that data to develop strategies to increase access and implement effective interventions for these individuals.
ISC News: What steps can we take today in learning from the past?
Dr. Bushnell: The NHLBI/CDC workshop has specific "Big Ideas" that could make a significant impact on BP management, including:  
Develop patient-centered hypertension care.
Simplify hypertension treatment.
Support self-measured BP monitoring with clinical support.
Implement telehealth for hypertension management.
Incentivize team-based care.
Enhance community-clinical linkages.
Use performance and quality metrics to enhance accountability.
Enhance access to high-quality health care and explore new health care delivery options.
Develop tailored public health messaging on the importance of hypertension control.  [Commodore-Mensah, et al.  Am J Hypertension 2022;35:232-242]
Also, listening to stakeholders is extremely important, not only for understanding their lived experiences, but also to learn what messages and framing are necessary to engage with patients who have hypertension and/or stroke to build trust.
ISC News: How does your lecture align with Dr. Kenton's legacy/work?
Dr. Bushnell: Dr. Kenton developed a Stroke Prevention Intervention Research Program at the Morehouse School of Medicine, so I'm sure he was avidly interested in BP management. He was also passionate about bridging race-ethnic inequities in stroke. I also feel an emphasis on patient-centeredness, stakeholder engagement and acknowledging and addressing SDOH is something he would agree is important if we are going to make improvements in stroke prevention.
ISC News: What is the takeaway of your lecture? 
Dr. Bushnell: The main takeaway from my lecture is hypertension control is decreasing, and this may actually get worse before it gets better due to the COVID pandemic and its impact on communities of color. As a result, we will likely see an increase in strokes. The most important pillar of secondary prevention is BP control, and we need to tailor our therapy to our patients, regardless of race-ethnicity, increase stakeholder engagement and therefore trust between stroke survivor and provider, and between communities and health systems. Think about how you as a provider can encourage your stroke patients to self-monitor their BP and other aspects of stroke recovery and empower them to increase their knowledge about the importance of BP on stroke prevention and prevention of other chronic diseases (such as kidney disease). Consider this quote from one of our caregiver stakeholders: "People perish from lack of knowledge."