---
Challenges abound in treating stroke patients with sickle cell disease
---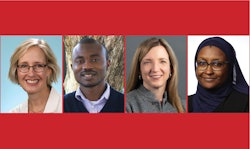 Apanel of experts will discuss critical issues in treating stroke patients with sickle cell disease in Wednesday's session, "From Bench to Bedside and Beyond: Sickle Cell Disease and Stroke Across the Lifespan and Research Spectrum."
Stroke is a common danger for people with sickle cell disease (SCD). The American Society of Hematology estimates that 24% of patients with SCD will have a stroke by age 45. 
Andria Ford, MD, professor of neurology and radiology at Washington University School of Medicine in St. Louis, said some of the biggest challenges arise in preventing ischemic stroke, hemorrhagic stroke and the loss of cognitive ability due to silent cerebral infarcts. 
More specifically, she said challenges are associated with coordinating tissue plasminogen activators and rapid blood transfusions for acute stroke in adults with SCD.
"The challenge is that rapid transfusion may need a pheresis catheter placed," Dr. Ford said. "But if IV thrombolytic has already been administered, then there is a risk of bleeding with any puncture, especially in a non-compressible site. If IV thrombolytic is given prior to placing the transfusion catheter, one may need to consider the site of the catheter placement and placement by an interventional radiology team who can accurately guide that placement."
Hyacinth I. Hyacinth, MD, PhD, MPH, associate professor of neurology and rehabilitation medicine at the University of Cincinnati College of Medicine, said there's no ideal stroke model for SCD because of the nature of the pathology. Three models in use are:
Middle cerebral artery occlusion (MCAO)
Ischemia reperfusion
Spontaneous cerebral microinfarcts
Each of these, Dr. Hyacinth said, presents its own set of challenges.
"The middle cerebral artery occlusion and ischemia reperfusion models are designed more for stroke treatment rather than prevention," he said. "They are useful for testing therapies or how therapies could limit injury severity. This is because they both fail to capture the cerebral micro and macro vasculopathy that characterizes increased stroke risk in SCD."
And although the spontaneous cerebral microinfarcts model allows for the gradual development of cerebral micro and macro vasculopathy — including the development of cortical/cerebral microinfarcts — Dr. Hyacinth said that it's also not perfect.
"The limitation is it does not make a good model for clinical stroke," he said. "However, because it captures the cerebral micro and macro vascular abnormalities that lead to the development of clinical stroke in SCD, it provides the most reasonable model for testing stroke prevention therapies."
Some of the therapies that could be tested with this model include antiadhesion molecules (crizanlizumab and natalizumab) and disease-modifying drugs, such as voxelotor and hydroxyurea, Dr. Hyacinth said. 
"This model also allows for longitudinal treatment and follow-up to examine the evolution of the disease, which could uncover key disease mechanisms and new targets for therapy," he said.
Lori Jordan, MD, PhD, associate professor of pediatrics, neurology and radiology at Vanderbilt University Medical Center in Nashville, said the majority of people with SCD are in low- and middle-income countries and regions. Reaching and treating these patients has challenges.
Halima Bello-Manga, hematologist and assistant professor at Barau Dikko Teaching Hospital and Kaduna State University in Nigeria, said one of the big hurdles is the lack of expertise in transcranial doppler (TCD) ultrasound screening and stroke detection in these regions. She said her university has taken steps to correct this problem. 
"To address this, we have conducted a workshop on performing TCD examinations and stroke detection," she said. "We trained nurses and community health extension workers to complete TCDs because they are more readily available at the community level where the care for SCD patients is not very adequate."
Other hurdles include poor SCD education among parents, caregivers and health care professionals and the cost of hydroxyurea for children at risk of developing stroke.
"To address (the lack of education), we have developed educational materials in the local language and also give talks on the radio," Dr. Bello-Manga said. "We also convinced the state government to provide free hydroxyurea to at-risk children."