---
Improving Stroke Outcomes for Women
---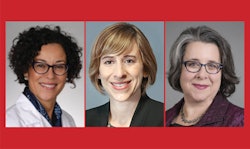 Taking aim at the underlying causes of women at higher risk than men for poor outcomes from stroke is the focus of this year's Paola De Rango Memorial Session on Stroke in Women: Social Factors Contributing to Sex Differences in Short- and Long-Term Post-Stroke Outcomes.
Adviye Ergul, MD, PhD, professor at the Medical University of South Carolina in Charleston and a VA senior research career scientist, will present preclinical research in her presentation, "Progress and Challenges in Preclinical Stroke Recovery Research." Dr. Ergul's research looks at the influence of sex, comorbid diseases and the need to think about vascular health to protect and repair neurons.
"Therapeutic targets and strategies for neurovascular protection and restoration after stroke need to be tested in both sexes and comorbid disease models," Dr. Ergul said. "The biggest challenge is the difficulty of modeling all the factors involved in stroke injury and recovery in preclinical models."
During the session, Tracy Madsen, MD, PhD, vice chair of research in emergency medicine and associate professor of emergency medicine and epidemiology at Brown University in Providence, Rhode Island, will present the clinically focused presentation, "Sex and Gender Differences in Short- and Long-Term Outcomes After Stroke: An Overview."
Dr. Madsen will outline factors that impede a woman's recovery following a stroke, including "the ability to live independently (or need for assistance with daily activities), death following stroke and outcomes that are particularly critical to patients, such as quality of life," she said. 
"A major challenge to understanding this topic is that biologic sex intersects with social determinants such as gender and race," Dr. Madsen said. "All of these constructs have a role in outcome after stroke and must be included in work aimed to understand poor outcome in women following stroke."
Session moderator Kathryn M. Rexrode, MD, MPH, chief of women's health in the Department of Medicine at Brigham and Women's Hospital in Boston, echoed Dr. Madsen's claim. The increased likelihood of women living alone in their later years (outliving their partners) has a negative impact on the ability to call for emergency help, she said. Biological and clinical mechanisms also impact stroke severity in women. 
"Most strokes occur in older women who have a larger number of underlying health conditions, and more strokes in women are due to atrial fibrillation, which tends to be a risk factor for more severe stroke," Dr. Rexrode said. "Further research is needed about whether some female-specific risk factors, such as history of early age at menopause and certain pregnancy complications (such as preeclampsia) may affect stroke outcomes. However, data are currently limited."
Although factors such as age and pre-stroke functional status and comorbidities likely explain a large proportion of the differences in post-stroke outcomes between women and men, the bottom line is women as a group still have worse post-stroke outcomes, Dr. Madsen said.
"This is a population health issue," she said. "Next steps should focus on interventions aimed specifically at improving outcomes in women." 
The topic aligns closely with Dr. De Rango's legacy. As a vascular surgeon for more than two decades, she was an international leader in research that influenced guidelines on stroke prevention, particularly in patients with carotid stenosis.
In the years before her death, she focused on the impact and management of carotid stenosis in women and was a pioneer in examining what factors were different in women.
"Dr. Paola De Rango dedicated her life's work to understanding stroke in women with the goal of improving prevention and outcomes," Dr. Madsen said. "This session is directly relevant as it will illuminate next steps in improving outcomes for women."