---
Today's poster sessions
Check out the poster categories and moderated poster sessions planned for today.
---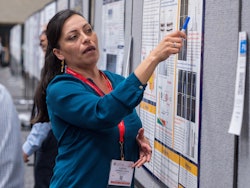 Today's poster sessions take place 12:30-1:15 p.m. CST in the Poster Hall (Hall B2). Posters are segmented into categories. These categories are Acute Nonendovascular Treatment, Aneurysms and Vascular Malformations, Brain Health, Cerebrovascular Manifestations of COVID-19, Cerebrovascular Nursing, Cerebrovascular Systems of Care, Clinical Rehabilitation and Recovery, Health Services, Quality Improvement, and Patient-Centered Outcomes, Imaging, In-Hospital Care, Intracerebral Hemorrhage, Late-Breaking Science, Neuroendovascular, Non-Acute Large Vessel Disease From Veins and Arteries, Pediatric Cerebrovascular Disease, Risk Factors and Prevention and Translational Basic Science.
Ten exciting Moderated Poster Session Tours will take place from 6:15-7:15 p.m. Please be sure to support our Early Career colleagues and attend these poster sessions.
Refer to the Online Program Planner for detailed lineup of posters, including moderated poster sessions taking place from 6:15-7:15 p.m. on Wednesday and Thursday. Also, please visit the virtual poster hall to view all posters.
For more #ISC22 coverage, visit the International Stroke Conference Coverage.