---
Join the American Heart Association for a dance break Feb. 9 at 3 p.m.
---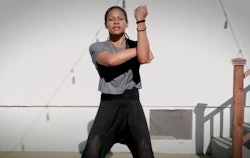 The Get Down With Your Blood Pressure Dance Movement will come to life at 3 p.m. CST, Feb. 9, at ISC. Head over to the Learning Studios I, Science & Technology Hall, to see and join in on the performance. 
Watch the video here to see the moves inspired by the four simple steps to self-measured blood pressure monitoring: "Get It, Slip It, Cuff It, Check It." 
After the break, keep the groove going by sharing your version of the dance with #GetDownWithYourBP and tag @american_heart or repost the content to help raise awareness for self-blood pressure monitoring. 
Can't wait to see your moves!