---
ISC 2022 features education in a variety of formats
See the many learning opportunities and formats on tap for you in New Orleans.
---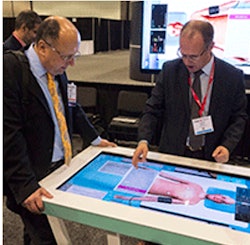 ISC 2022 offers learning opportunities about stroke treatment and research both in and outside the education sessions.
New sessions include debates, CED (Cerebrovascular Education and Discovery) talks, and a team competition, while the Science & Technology Hall offers popular features such as the Learning Studios. To track all conference information, refer to the mobile app.
CED (Cerebrovascular Education and Discovery) Talks is a compelling session scheduled for 3:30 p.m. CST, Wednesday, Feb. 9, in Riverside Room R02-R05. Stroke leaders will deliver short, powerful talks that offer rousing ideas on stroke research, education or policy. Each talk will last about 18 minutes, followed by four minutes of audience questions per talk.
Game of Strokes is an interactive session taking place at 5 p.m. CST, Thursday, Feb. 10, in Hall D. Three teams of stroke professionals from around the world will wage a friendly intellectual war in a fast and furious game show-style quiz competition featuring verbal and video questions.