---
Professional growth opportunities at #ISC23
Learn how AHA Professional Membership can enhance your career path.
---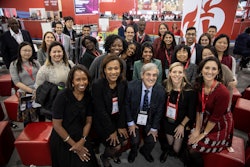 #ISC23 offers a plethora of tools to help you succeed.
HeadQuarters
From initiatives to hands-on tools, explore the American Stroke Association's initiatives at #ISC23's HeadQuarters.
AHA/ASA Professional Membership. Learn about AHA/ASA Professional Membership's career-enhancing benefits. Join or renew your membership today.
AHA Research. Learn about the projects AHA funds. Stay up to date by following on Twitter @AHA_Research or visiting professional.heart.org/research.
American Stroke Association. Discover what ASA does to create a healthier world with fewer strokes, including funding innovative research, fighting for stronger public health policies and providing lifesaving tools and information.
Lifelong Learning. Find AHA online educational activities or claim CME/CE for #ISC23. Visit learn.heart.org.
Mission: Lifeline® – Stroke. This program connects all components of acute stroke care into a smoothly integrated system that reinforces use of evidence-based guidelines, measures performance, identifies gaps, and engages in improvement projects at a systems level.   
Patient Engagement. Pick up patient and caregiver resources, including tools for healthy living and successful treatment and self-management plans.
Scientific Journals. Access the AHA Scientific Journals' content via AHAjournals.org. Learn about AHA's scientific statements and clinical practice guidelines via professional.heart.org/statements.
Stroke Certification. This initiative works with hospital accreditation programs and provides stroke-based certifications, from basic care hospitals to comprehensive stroke centers.
Register for #ISC23 today to be part of these professional, engaging opportunities.
For more #ISC23 coverage, visit the International Stroke Conference Coverage.