---
Willis Lecture highlights arterial ischemic stroke differences in neonates, children, adults
Age matters, but brain maturation is the real differentiator.
---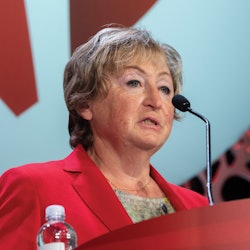 The familiar view of acute ischemic stroke (AIS) leading to inflammation, blood-brain barrier disruption and injury is familiar, but also simplistic and incomplete. AIS has a variety of pro-inflammatory effects, including microglial activation, leukocyte infiltration, cytokine and chemokine increases, accumulation of reactive oxygen species and lipid peroxidation. But the biological and clinical effects of those pro-inflammatory changes vary by age. Perinatal AIS (PAIS) and childhood AIS (CAIS) are very different biological and clinical entities, and both differ from adult AIS, said Zena Vexler, PhD, who presented The Thomas Willis Lecture during the Opening Main Event. 
Dr. Vexler's presentation, "Immune-Neurovascular Interactions in Experimental Perinatal and Childhood Stroke," explored what is currently known about the biological and clinical differences between stroke in neonates and children. 
"Perinatal AIS is surprisingly common, one in 2,300 live births, and almost never recurrent," said Dr. Vexler, who is professor of neurology and director of research at the Neonatal Brain Disorders Center at the University California in San Francisco and the Weill Institute for Neurosciences. "It is caused largely by thrombus/embolus formation or infection. Childhood AIS (CAIS) is uncommon, one in 50,000 children, and is very recurrent. About 80% of CAIS are caused by arteriopathies." 
Working with human patients as well as age-appropriate mouse and rat models, Dr. Vexler examined differences in neurons, local and peripheral immune cells, blood-brain barrier, pericytes, astrocytes and oligonucleotides in the brains of neonates, children and adults. One of the key clinical considerations of stroke in different age groups is the unsynchronized changes in the neurovascular and immune systems during physiological brain development. Age matters, but brain maturation is the real differentiator, she said. 
Blood-brain barrier permeability is markedly different following acute ischemic stroke in neonates and in children, she said. Blood-brain barrier integrity is largely maintained after acute PAIS. Post-stroke blood-brain integrity begins to break down following CAIS and increases with age until permeability reaches familiar adult levels. 
Differences in permeability can be seen based on dye diffusion, MRI, endothelial transcriptome and other methods. Tight junction proteins are better preserved in PAIS with essentially no infiltration of neutrophils into the parenchyma. 
Dr. Vexler's work has transformed the role of microglia in neurovascular integrity and injury in PAIS. The conventional view has stroke activating resting microglia and transforming them into toxic microglia. The reality is activated microglia are protective against neuroinflammation and limit injury, according to Dr. Vexler. The depletion of microglia increases blood-brain barrier leakage and induces parenchymal hemorrhages. 
Myeloid cells also contribute to injury as they are recruited to the blood-CSF barrier as a result of neutrophil trafficking. A functional monocyte deficiency is protective in part by diminishing neutrophil trafficking. 
The picture is different in CAIS, she said. Based on juvenile mouse modeling, CAIS disrupts the vascular network, leading to sustained injury via neutrophil elastase (NE) signaling. In mouse models, inhibiting NE signaling has acute protective effects. 
"Brain maturation at the time of stroke plays a key role in the pathophysiological injury mechanisms in both our animal models and in patients," Dr. Vexler said. "As factors such as blood-brain barrier leakage change in more mature brains, we see different physiologic and clinical effects. Acute ischemic stroke is not the same in newborns, children and adults."